Fraud Alert!
Financial scams are on the rise, especially those targeting older adults.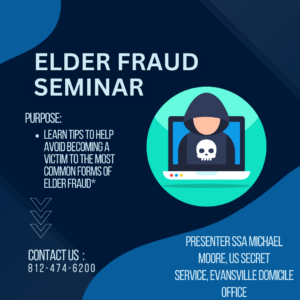 At our upcoming event, SSA Michael Moore of the US Secret Service will address some of the most common forms of elder fraud and how to avoid becoming a victim.*
Please call 812.474.6200 to reserve seats for you and your guests or register below and we will reach out to you.
* Genevive Waterman. NCOA. July 27, 2022. "Top 5 Financial Scams Targeting Older Adults."
https://ncoa.org/article/top-5-financial-scams-targeting-older-adults. Accessed September 9, 2022.